Biking Holidays in Anthering
Whether a challenging, leisurely or variety-packed family tour or a multi-day biking adventure – Anthering is the perfect starting point for your bike vacation in Salzburg.  The three most popular bike tours in Salzburger Land – Tauern Bike Path, Mozart Bike Tour, and Salzkammergut Bike Path – intersect in Anthering. The nearby city of Salzburg is easily reachable by bike in around 30 min. via the Tauern Bike Path.
With a broad network of small, seldom used roads in the undulating, scenic foothills of the Alps, cyclists have a true biking paradise and ideal training opportunities right at their doorstep.
Mozart Bike Tour – On the trail of Wolfgang Amadeus Mozart
Tauern Bike Path – Mighty spectacles of nature and famous sights
Salzkammergut Bike Path – From lake to lake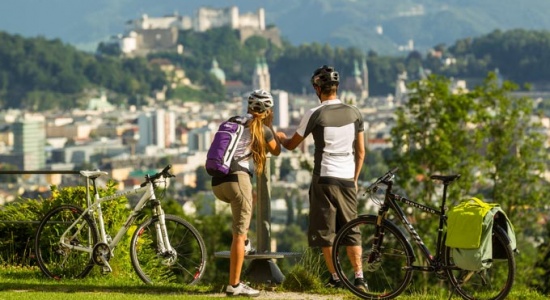 Adventurous hikes around Anthering – Magnificent hiking routes for the whole family!
Anthering Swing Path – Hiking and swinging with wild horse, etc.
Take a hike with the whole family and have lots of fun along the way! 6 "Swinging Stations" and plenty of opportunities to rest ensure that parents and children will enjoy their stay in nature.
Hike with the whole family and have a lot of fun along the way! On the new Anthering Swing Path, boredom is not an option: fun swinging stations include the "Wild Horse" and the "Pirate Ship", while plenty of opportunities to rest ensure that parents and children will enjoy their time in nature!
The Anthering Swing Path is around 4 km long (round trip) and has 6 different swinging stations along the way. The Swing Path is especially suited for kindergarten- and elementary school-aged children and is also accessible using off-road prams. It starts at the kindergarten in Anthering, with plenty of parking available. After the hike, the restaurants in Anthering offer plenty of opportunities to quench your thirst and fill hungry tummies!
Lugingersee and Raggingersee
Small oasis in a protected landscape
Dotted along the picturesque ridgeline between the Hochgitzen and Haunsberg are several small lakes including the Lugingersee and Raggingersee. This protected landscape is a popular excursion destination, especially since many bike paths in the Alpine Foothills head to these lakes.
Haunsberg Scenic Pathway
A path with beautiful views
The Haunsberg invites you to go on a leisurely panoramic hike, featuring info boards and fun interactive stations for kids. Along this easy loop (time-on-trail: ca. 3 hrs.), you can enjoy views of the Salzburg Lake District, the Salzburg basin including the city of Salzburg, the northern Limestone Alps, and the foothills of the Bavarian Alps.
Refreshment opportunity: Gasthof Kaiserbuche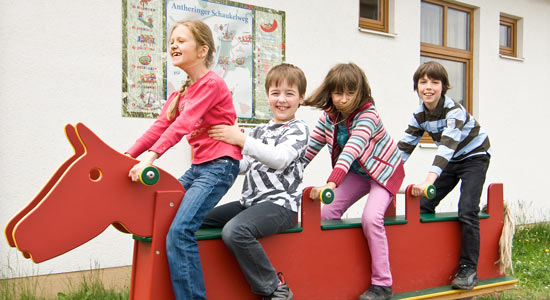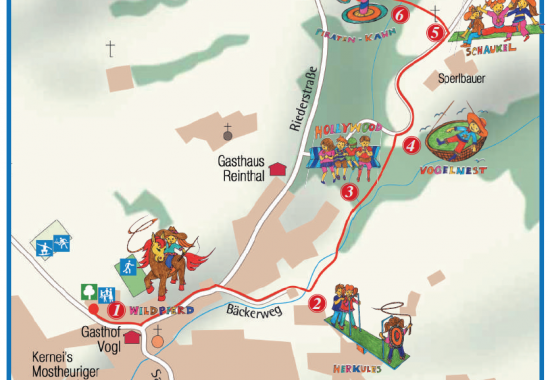 The Antheringer Au
Pristine nature reserve with boar and other wildlife.
A hike through the Antheringer Au is a special nature experience in any season. Awaiting children and parents in this pristine nature reserve is a fascinating natural landscape and an exciting animal world: ponds created by beavers, rare bird species such as the kingfisher or gray woodpecker, roe and fallow deer, and the indigenous wild boar which, depending on the season, may pass through accompanied by their piglets.
At the end of the path, you will reach the mighty Salzach, along whose banks you can continue your hike.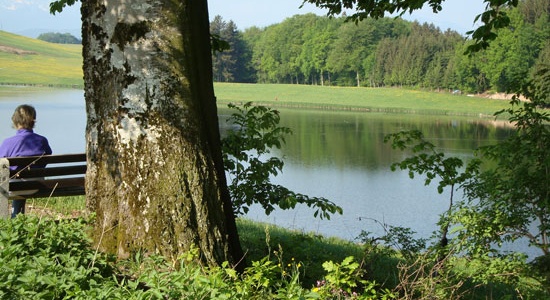 Anthering Outdoor Pool – Swimming enjoyment for all ages!
The heated and well-maintained outdoor pool in the town center of Anthering is open between May and the beginning of September from 9 am – 8 pm in good weather. Our guests love the spacious sunbathing area with its beautiful views and quiet atmosphere. For young children, there is a small pool and play equipment. Umbrella rental. Small snack bar. Info-tel. 06223/2929.
Fun on the water, sailing and surfing
Numerous lakes are nearby
There are numerous opportunities for water sports to suit every taste only a few minutes' drive away: Bergxi pool in Bergheim
Salzburg Lake District with swimming beaches on the Obertrumer See, Mattsee and Wallersee. Opportunities for surfing, sailing, and boating.
Abtsdorfer See outside Laufen
Geocaching in Anthering
Do you remember scavenger hunts from when you were younger? Well, geocaching is a type of modern treasure hunt that uses a GPS receiver and coordinates. You must find containers that other geocachers have hidden in mostly beautiful and unusual spots. Hidden clues, tricky puzzles, and amusing tasks lead to your goal! Whenever you think about geocaching in Salzburg, Anthering always comes to mind: Our community boasts probably the highest density of caches in the entire state of Salzburg! Find more information about the caches in Anthering at www.geocaching.com
Tennis on our clay courts
Four clay courts and a children's court are available to guests with reservations at the Anthering tennis club located in a beautiful, green setting. The facility also has a clubhouse with changing rooms and showers. Court reservations through the tourist office: tel. 06223/2279.
Fun park for teens
Next to the tennis facility is an attractive youth, sports, and recreation center. Open daily until sunset with free admission: skate park with numerous ramps, a beach-volleyball court, and fun court for basketball, hockey and volleyball.
Carriage Rides with Haflinger horses through Anthering 
Romantic carriage rides in summer as well as through our snowy winter wonderland. Also for birthdays, weddings, company outings, or various festivities.
Information and reservations from Paul Braunwieser, tel. +43 (664) / 79 250 18.
Fishing opportunities in Anthering
The Lebererteich is a hidden forest pond in the Antheringer Au and is an insider tip for anglers. Fish include: pike, pikeperch, carp, catfish, tench, eel, bass, bream, whiting. There are additional fishing opportunities on the Salzach, the Fischach in Bergheim, in Weithwörth, and in the Salzburg Lake District. You can find all fishing areas and permit outlets here: www.ssfv.at